IF IT SOUNDS TOO GOOD TO BE TRUE...
Modern high-efficiency boilers tend to be more compact and have smaller waterways. The gains that this gives in efficiency and fuel savings are very welcome, but the downside is that it becomes critical to maintain the rest of the heating system in as clean a condition as possible. Extending boiler warranties to five years and upwards is a bold move by the manufacturers, and it can only be supported if gas engineers play their part in preparing systems properly before fitting a new boiler - and that includes rigorous cleaning. It can be tempting to think that installing a compact magnetic filter in the return pipework to the boiler is all that is necessary to clean and protect a system. However, as always in life, things really aren't that simple - or cheap.
It has been suggested that temporarily fitting a larger magnetic filter into the system, and circulating a cleaning chemical for a couple of hours is quite adequate. That a heating system can be thoroughly cleaned in two hours is an attractive proposition but, as most experienced heating engineers know, if it sounds too good to be true, it usually is.
1
. lt relies entirely on the standard heating system circulator pump to drive the debris to the magnetic filter, which may be many metres away. Circulator pumps are designed to circulate water at a relatively leisurely pace, and this is a contributory factor to heavier particles of debris falling out of circulation and accumulating in areas of extra low flow, such as the base of radiators. Research has proven that the amount of debris removed from a water system is related directly to the velocity of the flushing water - the higher the velocity, the better the efiect. Without a high flow rate, heavier debris has little incentive to move, and so settles and compacts in radiators.
IMPELLER SIZE COMPARISON: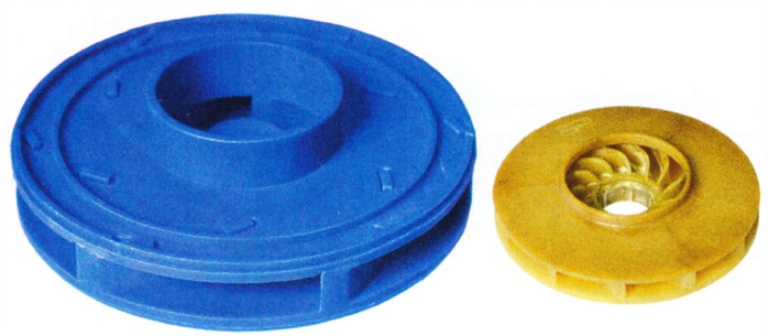 LEFT power flushing pump, RIGHT circulator pump
2
. Historically, circulator pumps are themselves a magnet for magnetic corrosion debris (see Figure 1). The magnetic field generated by the electric motor attracts debris, which then accumulates in pump passageways and in the impeller, dramatically reducing what is already a low flow rate. This problem is set to increase as new high-efficiency circulator pumps enter the market. Most of these now have permanent magnet electric motors, and generate a magnetic field at all times, not just when the pump is running. ln systems with a high volume of corrosion debris these pumps tend to accumulate a layer of magnetic debris on the rotor, lowering both the system and pump efficiency significantly, with further debris causing the rotor to seize.